NEW FEATURES FOR PURCHASE ORDER PRINT OUTS
The Purchase Order PDF has been enhanced to show notes, item pricing, and basic job information. When the user selects to print a Purchase Order, a pop-up window will appear asking the user if they would like to show these three areas on the PDF. Users can choose any combination they like to create the perfect PDF for them and their supplier.
Showing Notes will show comments from the Purchase Order Notes tab. Showing Prices will display the unit price and subtotal for each item. Showing basic job information will populate a grouping of items based on their job. Showing the basic job information will also present the customer name, job status, and the estimated start date of the job directly on the PDF.
We have enhanced the top, right-hand heading on the Purchase Order PDF to include the purchase order status, vendor bill number, and vendor bill date. It should be noted that the vendor bill information will only show if that information exists and is present.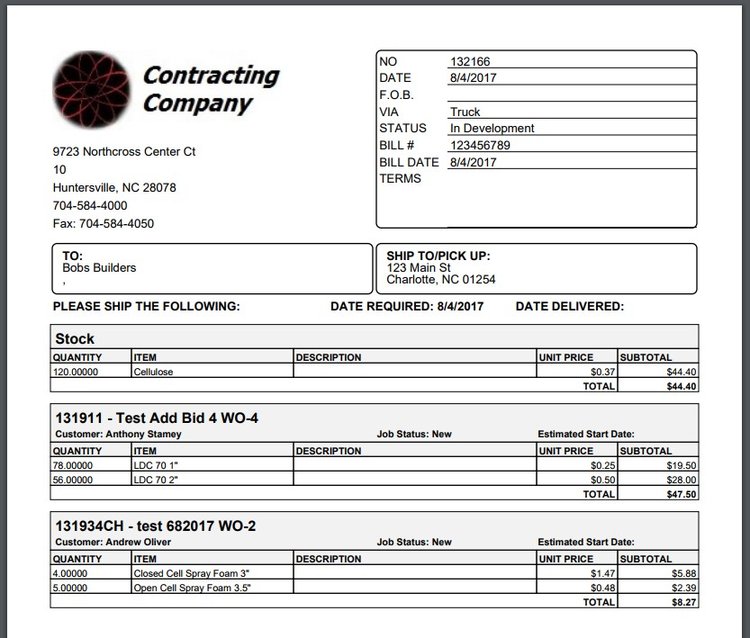 ---
ADD NOTES AND PRIORITY NOTES TO APP
The job's Priority Notes and the comments in the Notes tab for the job will now be able to be viewed on the Tech App. This is a new setting that has been implemented on the back-end of the system. The "flag" for these notes can be altered to show just the job's Priority notes, just the comments from the job's Notes tab, both, or neither. The default setting for all organizations will be the "Neither" option. If you would like to have this setting updated for your organization, please reach out to our Support Team at support@jobprotech.com.
---
ADD SALESPERSON TO PAYMENTS
Before this release, payments were only connected to invoices, or rather billable items on the invoice. However, a new feature has been added to JobPro to link a payment to a salesperson. This enhancement will assist companies that pay commission to their sales employees based on the timing of invoice payments.