Enhancements and Updates
Time Sheet Import
JobPro has added a new feature for adding employee's time into your system. This new feature allows resources that have been assigned an employee number to have their time imported through the provided Excel file. To download and import this file users simply need to navigate to the 'Entry' dropdown and click 'Time Sheet Import'. The Excel file allows you to import data based on the employee number, date, job number, total hours, and rate of pay. This new feature is helpful for users that need to quickly add their resources time over multiple days and multiple jobs. Just to note, if your resources have not been assigned employee numbers, this can be done by navigating to the resource page and adding the number in the 'General' tab. If you have any questions about the new Time Sheet Import, please contact our JobPro Support Team.
2. Groups on the Tech App
The current material entry tab on the tech display items as a list down the page. With this new update, users can display their material based on the groups created within the bid.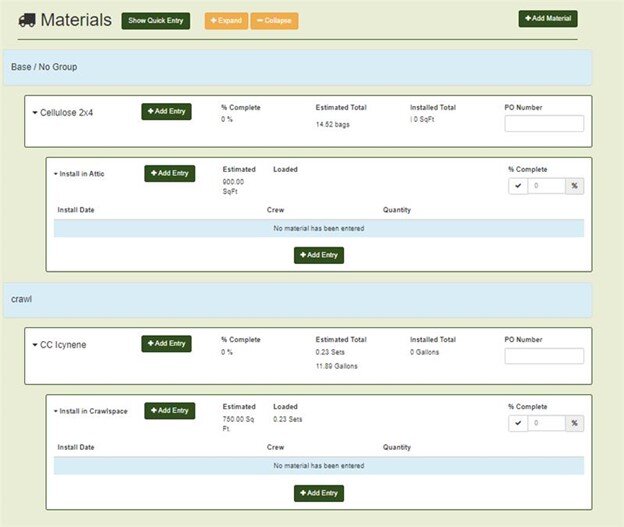 Material will be first displayed according to the bid groups and users will simply need to click the group to expand it and see the materials assigned to that group. When the items are clicked, the specific work areas will be displayed. This new update allows users to easily locate the items they need to add their material and/or time to. If you have any questions or would like this feature turned on for your organization, please contact JobPro Support today.
3. Send Jobs to QuickBooks
In the QuickBooks Desktop Integration, we have added the ability for Jobs to be sent to QuickBooks. When a job is created in JobPro, we will send the job number and job name to be created in QuickBooks as a sub-customer to the parent customer – if a parent company exists in QuickBooks. If the parent customer does not exist, JobPro will create a record for the Parent customer and created a subsequent sub-customer/job record in QuickBooks. Jobs will automatically be added to the queue to move into QuickBooks upon creation. Jobs will only leave the queue after a successful sync has been accomplished between JobPro and QuickBooks. If you want more information about how to get this setup, please contact us at 704-584-4019 or send an email to support@jobprotech.com.
4. QuickBooks Inventory Value
In the QuickBooks Integration, JobPro will display your organizations current inventory value. The inventory value will be made up of the material cost of all inventories in warehouses, trucks, WIP and on jobs that have not been invoiced yet. Quantities for non-foam items are removed from WIP inventory when a job is marked processing complete. Quantities for foam items are removed from WIP inventory after each material entry is made to keep overall available quantities up to date. This inventory value will allow your organization to manually create a GL entry record as a correction to the current inventory value in QuickBooks. To access this feature, you will need to be using JobPro's inventory module. For more information, contact us at 704-584-4019 or send an email to support@jobprotech.com.