Welcome to the JobPro Technology Help Desk Page. Here you will find information about how to submit tickets to the help desk and make use of the support portal.
Accessing the Help Desk Customer Portal
In order to submit tickets to the help desk and to view these tickets, you'll need access to the Help Desk Portal. A JobPro Support engineer will email you a link to create an account. You will then be able to create your own username and password. Users will also have the option to create their own account from the login page by selecting the Sign-Up option. Enter your company email and an email will be sent with instructions on how to setup your account.
Submitting a Ticket
To submit a ticket, navigate to the support portal by selecting the envelope icon on the top right-hand side of your JobPro window. Please note this icon is controlled by a permission and may not be available to all users.

On the home page, you will see several options to select from. Please select the choice that most fits your needs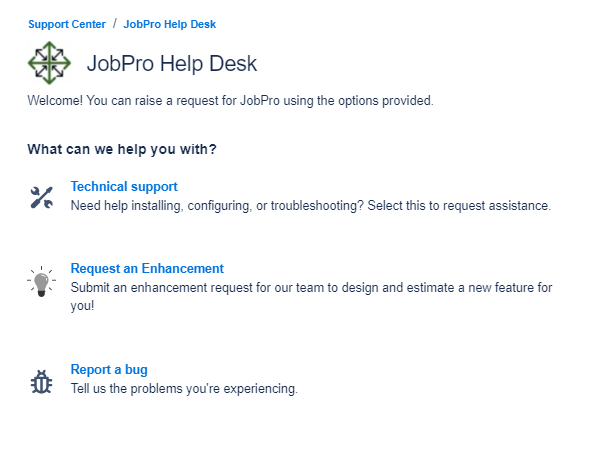 Each of these options will take you to a form you will be able to fill out. Any required field within each form will be indicated by a red asterisk. You also have an option to add attachments that may help identify the areas of the system related to your ticket. Please provide as much detail as possible when submitting tickets.
Each request type has a different form and fields.
When submitting a ticket, there is an option to share with your organization. By default, the ticket is not shared and only you will be able to see it. If you want other users in your organization to see the submitted ticket, select the option to share.
Please note, you should not share tickets with others if there is sensitive information you do not want exposed to other users in your company.
Suggested Articles
Based on the text entered into the Summary field while submitting a request, the portal will offer suggested articles that may be helpful. These will display below the Summary field and can be selected to view.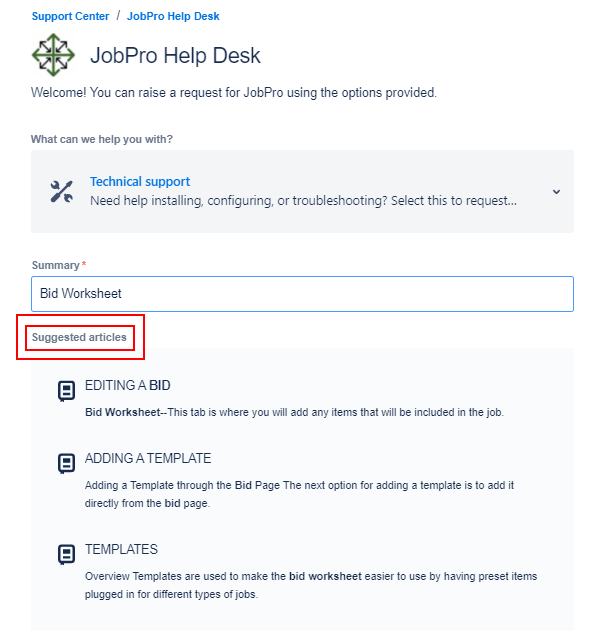 Viewing/Managing Open Tickets
On the Support Portal home page, the upper right corner displays a button labelled "Requests". Select this to view requests you have submitted. A menu appears where you can select one of the options.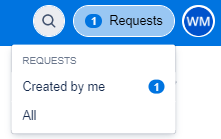 You will be taken to a page that lists any open requests. You can use the status filter to view tickets in a specific status. You can also filter by request type or based on tickets created by you, others, or shared with your organization.

Select the reference number to open the ticket. This is where you will see an overview of the ticket, the status, any comments made by a JobPro Support engineer or anyone with access to the ticket. At anytime, you can add a comment and a support engineer will be notified. You also have the option to resolve, cancel, or share this issue.
When you share a ticket from this screen, you can share with your organization or a specific user within your organization.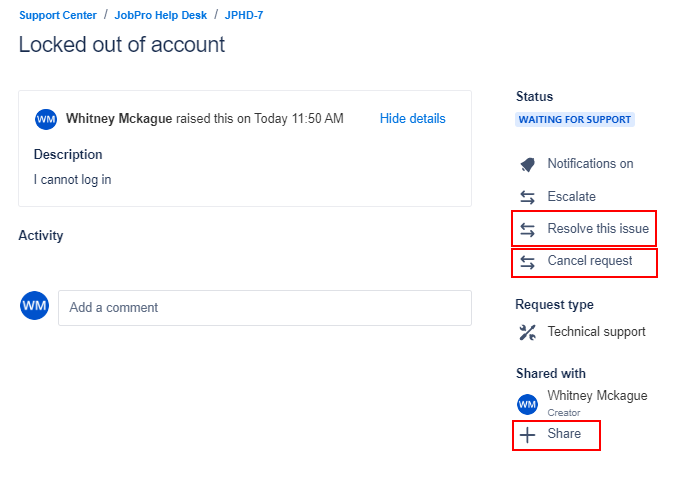 Ticket Notifications
By default, users will receive an email for any activity related to the ticket, such as a status change or a new comment. Users that have created an account within the portal can turn notifications on or off from the ticket page of the portal. Users that have created an account will receive an email notification with a link to open the ticket in the portal.
DO NOT REPLY TO HELP DESK EMAIL NOTIFICATIONS IF YOU HAVE CREATED A USER ACCOUNT. USERS MUST REPLY FROM THE TICKET IN THE PORTAL.
For users that do NOT decide to create an account and want to continue to email into support, you will still be able to reply to emails received from the Support team.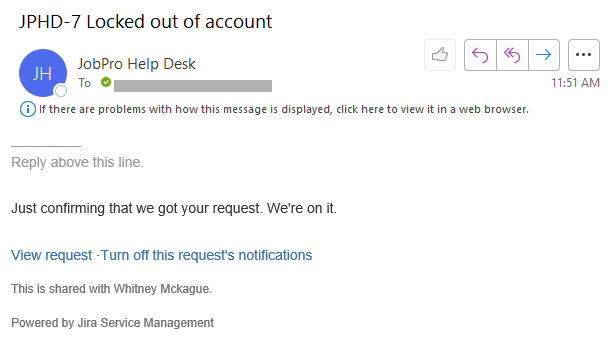 If you are not getting email notifications, please whitelist jobprotech.com