Enhancements
Integration with Zapier
JobPro has expanded its integration with Zapier, please contact JobPro Support for connection opportunities and limitations.
2. Default Pricing By Margin
JobPro typically stores a unit price as the price to the customer on the item record. With this update, a desired gross profit margin can be stored on the item record. This feature can be very useful if you do not have default costs or the costs on the item changes frequently. A case example is for a special-order item whose material cost can vary day by day. This item can be configured without a default material, labor, or price to the customer and only a desired profit margin. When the item is added to the bid worksheet, the salesperson can enter in the material cost from the supplier and JobPro will automatically calculate the unit price based on the entered material cost and default gross profit value.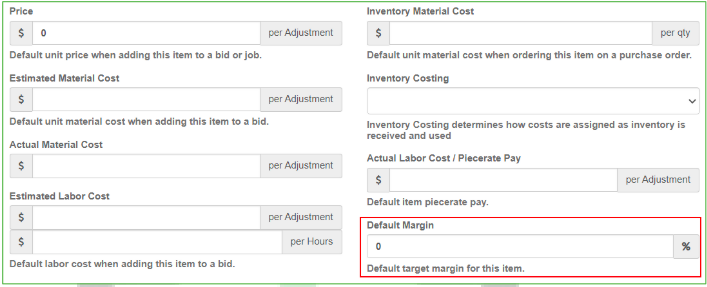 3. Bid Aging Report
The existing AR Aging report in the Summary Reports section has been renamed to Aging Report. The report will now account for Bids. Just like with Invoices, Bids will display in their respective aging columns based on the date the bid was created. Bids that have been converted into jobs will not display in this report.
4. Configure Limits on Pricing
System configurations can now be set up to apply minimum/maximum price restrictions on bids. This includes minimum/maximum Gross and Net Profit margins as well. Go to the settings drop down and select System Configuration, then select Proposal Price/Profit Restrictions. These settings will prevent proposals from being created outside the restrictions your organization chooses. You can set the restrictions at a Company, Office, and Resource level.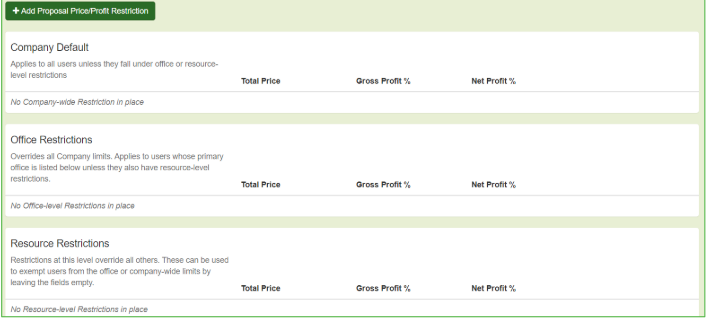 5. Actual Filter on Job Search
A new filter has been added to the Job Search Page. Users can now search for jobs that have material actuals added to the job.