Enhancements
City Included on Payroll Report Export
Previously, when exporting a detailed Payroll Report into excel, only the state of the job address was displayed. Now, in addition to the state, a new column has been added to the detailed excel export to also include the job's corresponding city.
2. Crew Time Entry Update
Last month, an enhancement was added that allowed users to add time for crews and their resources directly from the tech app. This enhancement did not allow for a pay type to be chosen from the dropdown menu when adding time for an entire crew. Now, an update has been added that will allow users to access any shared pay types among the crew members. If the crew members do not have any shared pay types, any time entered will be entered as their default pay type. If you have any questions concerning the new crew time entry update, please contact JobPro Support today!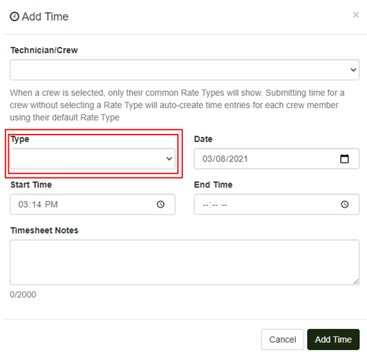 3. Foam Management-Combining Drums
JobPro is continuing to enhance its inventory module. Our latest feature allows users to combine drums with different costs and different quantities to create an entirely new drum with new costs and new quantities. With this feature, the new cost of the combined drum will be determined by the costs of the original drums weighted by their respective quantities to get an accurate true cost.
4. New Field on Datasheet/Bid/Job/WO Status Widget
The Datasheet/Bid/Job/WO Status Widget has been updated to now show a new field that will include the current invoiced amount and the amount left to bill. This feature is only included with the Widget has been set to filter 'Jobs', it will not appear on a widget set up for Datasheets or Bids. The new field allows users to have a quick and easy glance at a job's invoice status right on their JobPro Dashboard.