What to do if I see this error message: Internet Explorer has Stopped Working?
Internet Explorer has stopped working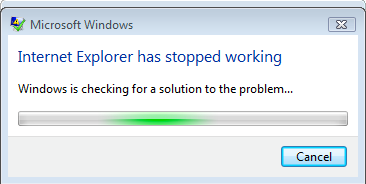 If you receive this message while working in JobPro, please refer to the list of options to fix this problem.
Go to 'Tools' and click on 'Internet Options'

In the security tab, make sure that www.jobprotech.com is added to your list of trusted sites.

Set your default email service. Go to the 'Programs' tab and click 'Set programs' in the Internet programs section

In the new pop-up window, select set your default programs.

Select your email service and click 'Set this program as default'

Set how new windows should open. On the General tab in the Tabs section, click on the 'Settings' button.

in the new pop-up, select 'Always open pop-ups in a new tab for when a pop-up in encountered' and select 'A new tab in the current window for Open Links from other programs in
With these updates to your Internet Options, your should not have any crashed in Internet Explorer.