Where can I add additional notes on my customer proposal?
There are two ways that you can add notes to your customer's proposal.
---
Your first option is to add notes directly onto your line item. This can be done through the bid details section. Anything you add here will display on your customer proposal. Simply click the red box that says Missing Bid Notes and enter your information into the pop-up window in the Bid Notes section. This information will be displayed on your proposal beneath the item.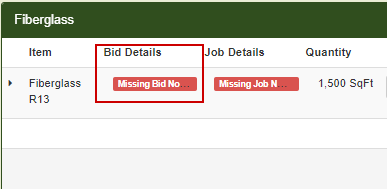 Just to note, if there is information you need your installers to see that doesn't need to display on the customer proposal, enter this into the 'Job Notes' Section
As you will notice in the screen shot above, the Bid and Job Details window includes a portion on the right side that has a search bar and a list of notes. These are called 'Item Notes'. This is a feature that allows your organization to create and enter any pre-set notes into your bid at the click of a button.
To create 'Item Notes' navigate to the Settings drop down and click 'Configure Item Notes'

This will take you to a new screen that will allow you to edit any existing item notes and create any new items notes you may need

Simply click 'Add New Note' and a blank line will appear where you can enter the category information and add your note.

Once you have finished and saved your note, you will now have this option within the Bid and Job details pop up window.

Clicking the item note will enter it into the Bid or Job Detail data field. From here you can add additional notes if necessary.

You may add as many Item Notes as necessary to your system, the search bar on the pop-up window allows you to easily search and find the notes you will need.
---
The second location for adding notes is in the 'Additional Specifications' field at the bottom of the bid worksheet page. Simply add in any information needed and click 'Save' at the top of the page. This Information will be shown above the items on your proposal.