The second option you have within your Summary Reports is the 'Invoice Summary'. This report gives a detailed summary of the Invoices within your organization. By running this report you can see the Invoice ID, Created Date, Invoice Date, Due Date, Status, Date Paid, Office, Customer, State, Salesperson, PO #, Job ID, Job Type, Item Category, Invoice Amount, Tax, Use Tax, Revenue, Amount Paid, Balance, Commission, Labor Cost, Labor Overhead, Material Cost, Mileage, Gross Profit, and GP%. The results can be filtered by the Office, Customer Type, State, Salesperson, Job Type, Item Category, and Invoice Date.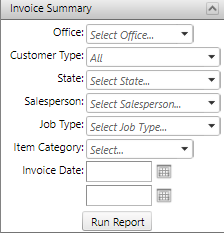 You have the option to customize this report by hiding any of the columns displayed on the report. To do this click the check box on the column header. To see these columns after they have been hidden, click the button at the top of the page that describes the number of columns hidden and says 'Click to View'.
This report can be exported into a PDF or an Excel file.